Gay Fire Island

Summer Dreams in a Long Island Paradise


CHERRY GROVE AND FIRE ISLAND PINES QUAINT GAY COMMUNITY BEACH RESORTS


by Jim Kelly



| | |
| --- | --- |
| | |
| photo by Marco Herrera | |
| Fire Island Pines: A beautiful place to walk through with its hilly wooden walks, lush greenery, and many large spectacularly designed houses | |
Your first visit to Gay Fire Island?

No matter what your interests are, from enjoying a quiet and restful day at the beach to partying nonstop, the two sister communities of Cherry Grove and The Pines offer fun, entertainment, and a beautiful natural setting combined with an affirming atmosphere to all members of sexual minorities.

Cherry Grove, America's only gay small town, has a rich gay history dating back decades, and is comprised of a downtown business area bracketed by almost 300 mostly owner-occupied small cottages. One-day visitors are welcomed, and limited overnight accommodations are available at several guest houses and small hotels on an advance reservations basis. Restaurants, bars, discos, shops and even a small grocery are located downtown close to the ferry dock. To the East and West of the downtown lie the quiet residential areas.

There are no roads or private vehicles in the Grove. Transport is by foot on the Grove's wooden walkways. Red Radio Flyer wagons provide luggage transport. The beach at Cherry Grove is beautiful and residents have worked hard over the years to insure the health of its dunes, which offer protection from storms. A visit to "The Grove" might include a day spent on the clothing optional beach followed by dinner at one of the several available restaurants. No visit to Cherry Grove would be complete without seeing a drag show since the Grove is famous for its drag performers. Dancing is available until the wee hours. A wonderful mix of men and women, people of color, young and old, gay and straight, drag and leather make the Grove an interesting, colorful and fun place to visit for all.


| | |
| --- | --- |
| | |
| A Cherry Grove quaint summer cottage | |
The Pines is located to the East of Cherry Grove and is separated from the Grove by a small stretch of undeveloped beach and dune known affectionately as the "meat rack." Visitors can walk on the beach or through the meat rack to go to either of the two communities, however ferry service provides direct access to both the Pines and the Grove from Sayville on the South Shore of Long Island. The Pines is much larger than the Grove with somewhere in the neighborhood of 700 houses, many of which are large multiple bedroom units shared by groups of young men on a seasonal basis. Ferries bring seasonal residents and visitors into the beautiful Pines harbor, which features a marina and a number of restaurants, shops, bars and discos. To the East and West of the harbor lie residential areas. As in the Grove, there are no roads or private vehicles and transport is by foot on wooden walkways. The Pines is a beautiful place to walk through with its hilly wooden walks, lush greenery, and many large spectacularly designed houses. While day visitors are welcomed, overnight accommodations are not as commonly available as in the Grove. Visiting the Pines for more than a day at a time requires planning and usually involves taking a share in a large house or renting on a weekly, monthly, or seasonal basis. The Pines offers a vibrant social scene tailored to a young gay male crowd. A summer day at the beach in the Pines is usually followed by Tea Dance at eight PM. At ten, the men have a late supper at their group house, after which it's off to the disco for dancing until dawn.



A contemporary beach home property in
Fire Island Pines
No matter where you choose to spend your time, your visit to gay Fire Island can be fun-filled. However, there are a few special considerations that you need to be aware of so that you enjoy your visit fully. If you plan to spend the day at the beach be prepared for sun exposure and remember that there are no lifeguards in either the Pines or the Grove, so swim with care. The dunes are a precious protection against the elements, so please do not walk on them; walk only on the wooden walkways or established pathways. Fire Island is home to several herd of deer. Please resist the temptation to feed them since this upsets their natural feeding routine and harms them in the long run. Deer also carry ticks infected with Lyme disease, so please avoid all contact. Dogs must be leashed on walkways and are not permitted on the beach by town ordinance. Dry summertime conditions mean that there is an increased risk of fire, so please be careful with cigarette butts. Finally, enjoy your visits to the bars, clubs and restaurants, but please bear in mind the residential nature of our communities.

Enjoy Gay Fire Island!



photos by Marco Herrera

Jim Kelly is a resident of Cherry Grove, and writes for FIQNews on events and historical data.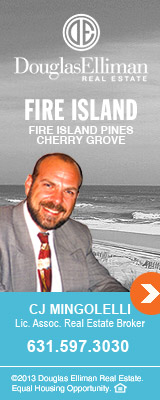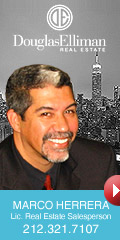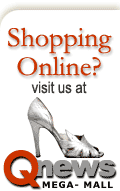 • Clothing, Jewelry,
Bed/Bath, Books,
Gifts, Cards, Movies,
Magazines, Software,
Hardware, Electronics
and Peripherals. All
these items and more
in your community
online Mega-Mall.
• Qnews Mega-Mall