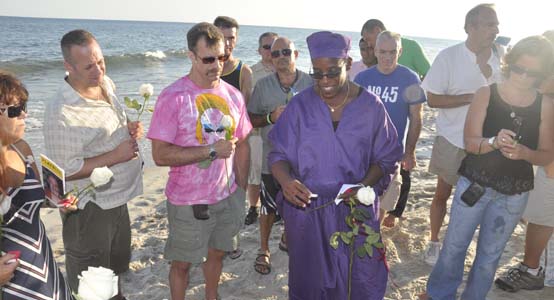 photo by Bruce-Michael Gelbert

Bradshaw Smith memorial: Sandy McFarland (far left), Reverend Cheryl Patterson (center), Dan Daly (rear, in green shirt)

.......................................................................................................................................................................................
On August 18, videographer Bradshaw Smith (1954-2012), the founder of Broadway Beat, who chronicled professional Broadway theater performances in Manhattan, Broadway Cares/Equity Fights AIDS benefits, community theatricals in Cherry Grove, and some of the first gay weddings on Fire Island, after same-sex marriage became legal in New York State, was remembered at Grove Manor by friends, neighbors, and family members, in a celebration of his life coordinated by the Manor's Sandra McFarland.
Sandy gave a eulogy, talking of Bradshaw keeping track of the comings, goings, and foibles of his Grove Manor neighbors and "taking care of us all." She also made eggplant parmesan, which was part of the lavish spread, and ordered the cake, its design representing a red theater curtain and gold masks of comedy and tragedy, and its filling cherry, as apt for Cherry Grove.
Assisted by Dan Daly, at the keyboard, songs were sung in Bradshaw's memory by tenor Mike Schaefer—"Bring Him Home," from "Les Misérables;" this baritone—the Gershwins' "Someone to Watch Over Me;" and Dan himself—a touching original song, which he composed for the memorial for Bradshaw in New York City earlier in the summer, beginning, "Once upon a time in a manor by the sea" and saying, near the end, "His Little Prince came back, you see/to bring him to eternity," a reference to Bradshaw's late partner, John Scoullar, who predeceased him by 10 months.
Reverend Cheryl Patterson offered a blessing, "To Bradshaw," beginning, "If you speak my name, let it be words of welcome," and ending, "let it be words of love." Bradshaw's brother, Bob Smith, read a letter he wrote to and about 'Brad' posthumously, concluding "you touched our lives and … we will miss you." Ron Gross, who met Bradshaw in March 1983 and called him his "soul mate," said he had posted a message on Facebook, on January 12, the day that Bradshaw died, reading, "a piece of me has died as well." "He's in our hearts and so is John: we're all much better people for having known them," said Lisa, who was their neighbor in Manhattan. Brad, dubbed 'little Brad' by those in the Manor, recalled that Bradshaw gave him his first job, as a waiter, in New York City, in 1979. "I can't imagine not having him anymore in my life," Brad said.
The assembled continued to the Cupcake Garden at Grove Manor, where Rev. Cheryl added some of Bradshaw's ashes near the plaque where John's had been placed, and to the beach, for a further ceremony, involving consigning more ashes and white roses to the Atlantic Ocean.