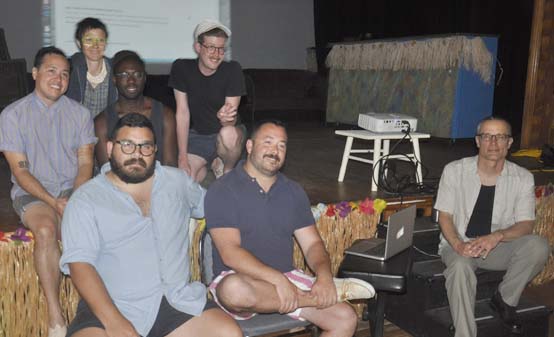 photo by Bruce-Michael Gelbert

front row (left to right): FIAR co-founders Evan Garza & Chris Bogia & resident Grey Dey
back row (left to right): residents Chris E. Vargas, Laurel Sparks, Paul Mpagi Sepuya & Baker Overstreet

.......................................................................................................................................................................................
On July 23, at the Community House, the Fire Island Artist Residency (FIAR) program, founded two years ago by Evan Garza and Chris Bogia and sponsored by Visual AIDS, Sikkema Jenkins & Co, and the Leslie-Lohman Museum of Gay and Lesbian Art, introduced the 2013 artists, in residence in Cherry Grove from July 21 to August 17, to the community. FIAR is billed as the first program in the United States exclusively for LGBTQ artists and, on this occasion, each of the five residents spoke about and showed slides of his or her work.
Chris E. Vargas, from Oakland, California, is mostly interested in film and video. Chris presented stills from video sitcom "Falling in Love with Chris and Greg," exploring the tensions in the partners' relationship—"an 'Odd Couple' sort of format"—with Chris as the more radical and transgender partner and Greg, the more traditional non-transgender partner. They dealt with issues such as open relationships, Proposition 8, transgender male pregnancy, and hair loss and other body issues. Chris worked on the sitcom from 2008 to 2013 in the Bay Area and recently moved to upstate New York.
Chris' other projects include, with Eric Stanley, "Homotopia," with a campy wedding-crashing narrative, and "Criminal Queens," a jailhouse story, from a prison abolitionist political viewpoint; a response to Barbara Walters' provocative interview with Thomas Beatty, who was described as the first pregnant man; "Liberacéon," positing Liberace's death as the motivation for the founding of ACT-UP; and a poster for MOTHA, the fictional Museum of Transgender Hirstory and Art.
Laurel Sparks, an abstract painter from Brooklyn, New York, called her work "materially rigorous," and sometimes thinks of herself as an "alchemist," using the likes of paints, washes, glitter, homemade paper, screens, and dirt—"where the organic meets artifice"—to will her creations into being. As a result of a visit to Italy, she painted Venetian chandeliers as her subjects, substituting them, she said, for human figures, and becoming more interested in the patterns of their silhouettes than in their literal depiction. Of importance to her are "the gender of color, the gender of shapes," in the way they have stereotypical associations, which can be accepted, transcended, or defied. Laurel's more recent works incorporate geometry and ritual, such as the Kabala. "I spent a lot of time in the underground cabaret world," she said, making her think of her paintings as a kind of performance.
Abstract painter Baker Overstreet, from Manhattan, New York, employs the sorts of colors and shapes found in theater marquee lighting, Hollywood stage sets, arena concert lighting, and pinball machines in his work, which incorporates human and animal forms and symbols. There's sexual imagery there, too, but it's "candy-coated."
Baker's performance art-related paintings and photos have centered around his created characters "June Fagley," "a hack, a clown, a pathetic, self-absorbed attention seeker," dedicated to "cheap thrills—performed out of a suitcase," and "Fanny," "the brunt of all my jokes." Baker has since abandoned June and Fanny and more recent work reflects his interest is alien figures, like ET, lights and movie cameras, and "things you'd get in a magic store."
Grey Dey, from San Francisco, uses real references, but is not an illustrator. He uses figures as objects, sculpturally, as still lifes. There are hot men in his paintings, some in costume, some carrying weapons, but, for him, the sexuality was transferred to the materials, to the oils and pastels. A figure peacefully carrying a parasol seemed to balance out the tough men with gun, sword, and dagger. Grey calls his work "indulgent." Paintings he shared with us were done in Provincetown, Orange County, California, and in Golden Gate Park.
Inspired by portraiture from vintage magazines, Paul Mpagi Sepuya, from Brooklyn, creates a narrative with his photo installations, consisting of groups of portraits that he's made of family in Louisiana and of friends. Both the figures and the space where he made the portrait are significant to him.