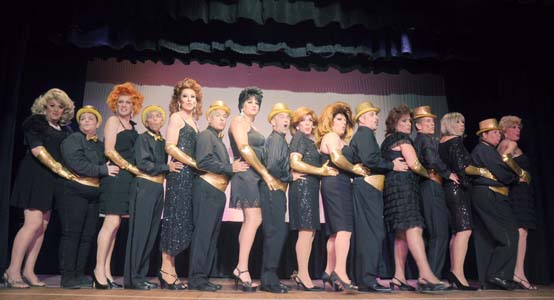 photo by Bruce-Michael Gelbert

Doctor's Fund Benefit finale: the cast does "One" from "A Chorus Line"

.......................................................................................................................................................................................
The 17th annual Doctor's Fund benefit show, at the Community House on July 20, was produced by Toni Cesta, Jane Haber, and Hussein Tahan, in association with the Arts Project of Cherry Grove; brilliantly conceived and directed by Donald Labohn; and executed by an excellent cast. "There's No Tune like a Show Tune" was the title. We were assured that these melodies—some dozen and a half of them—would be twisted and indeed they were ... mercilessly and merrily!
To the tune of "It's Today," from "Mame," Sylvia and Shirley Shapiro, Donna Piranha, Demi-Tasse, and Angela Mercy ebulliently delivered the title-and-opening song, "There's No Tune like a Show Tune," with allusions to many other songs along the way. Bobbie Green and Doreen Rallo, in dreadlocks and tie-dyes, cavorted to a reggae version of "There Is Nothing like a Dame," from "South Pacific." In dramatic "Phantom of the Opera" numbers "Angel of Music" and "Phantom of the Opera," Chuck Krouse was the eponymous Phantom, caped and masked, and then unmasked, and Bella was Christine, in virginal white and silver, groping her pursuer appreciatively. The faces Bella made 'singing' the coloratura in the title duet were alone worth the price of admission.
Two songs from "Call Me Madam" were treated to send-ups. In "Hostess with the Mostes'," Charity was no Perle Mesta, but a literal madam, raking it in as johns Ken Woodhouse, Jake Roberts, and Eddie Galante solicited the services of Urban Sprawl, Donna, and an Eastern-flavored Demi, and in "I Hear Singing (You're Just in Love)," Sylvia was the afflicted patient and Rose Levine, the analyst, trumpeting her advice à la Ethel Merman.
"Getting to Know You," from "The King and I," found teacher Demi-as-leather-dominatrix, taming unruly charges Ken, Eddie, Jake, and Charles with her whip, not to mention her 'bare breasts,' and had the boys not only crawling at her feet, but also getting rather chummy with each other. In "Cellblock Tango" ("He had it coming"), from "Chicago," Bobbie ("Pop"), SallyAnn Piacentino ("Six"), Urban ("Squish"), an exotic, foreign Cobra ("Uh, uh"), Donna ("Cicero"), and Doreen ("Lipschitz") made quite a sextet of hardboiled dames!
Elegant Shirley, in black with white trim, and Sylvia, in white with black trim, tackled "Come to the Cabaret," from "Cabaret," in Yiddish, Barry Sisters-style, in a sea of black and white balloons, which Maria Elena Passeretti, quoting "I'm so glad we had this time together," swept offstage and into the audience. This was juxtaposed with a selection from "Spamalot," in which Ken, dancing up a storm, cheerfully assured Chuck, Eddie, Jake, and Arthur Cohen that "We won't succeed on Broadway/If we don't have any Jews." Arthur, at the Yamaha, mimed a piano interlude; Bobbie and Doreen made a cameo appearance; and Ken, Chuck, Eddie, and Jake, in a second entrance, were a sight as Chasids!
Donna was a lady in red—the off-the-shoulder dress and the high "Kinky Boots"—letting us know, in a song from that show, that "The Sex Is in the Heel," with a quartet of disembodied pairs of booted feet assisting. Sylvia made a mad, stylized—and cross-eyed—Norma Desmond, from "Sunset Boulevard," dazzling her fans "With One Look"—talk about a demented diva! In a scene from "Gypsy," Eddie, Jake, Ken, and Chuck were the newsboys ("Extra, Extra") and Bella, a fine Baby June, in kiddy clothes ("Let Me Entertain You"). SallyAnn was a determinedly butch "Mary," in the song from "George M" (Cohan). Rose came back to belt out a zesty pairing of "Nothing Can Stop Me Now," from "The Roar of the Greasepaint, the Smell of the Crowd," and "I'm Shooting High," from "Sugar Babies."
In a riotous "Dance 10, Looks 3," statuesque Angela doffed her frills to show off, in a larger-than-life body suit, her newly-purchased assets—"Tits and Ass"—paving the way for "One," kicked off by Ken and Chuck, in glittering gold top hats, bowties, and cummerbunds, setting off black formal shirts and pants, and Donna and Angela, echoing the gold-and-black theme in their gloves and gowns, before the rest of the 'Chorus Line' joined them for a very grand finale indeed!
Matt Baney, Alison Brackman, Michael Romanelli, and James Lyons were responsible for lights and sound; Arthur served as stage manager; and Jane, Maria Elena, and David Medina made up the stage crew. Gary Greene and Luis Valentine were credited with the stage sets and Urban, with hair and makeup.