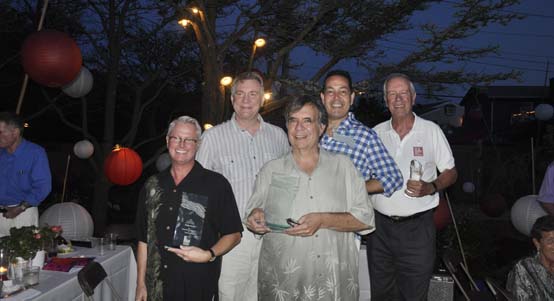 photo by Bruce-Michael Gelbert

(left to right) Phil Stoehr, Gary Gary, Sal Piro, Luis Valentin & Roland Michely with CGCAI awards

.......................................................................................................................................................................................
On August 17, at its eighth annual Community Honors dinner, the Cherry Grove Community Association, Inc. gave recognition to the community service of Gary Greene and Luis Valentin, Phil Stoehr, Sal Piro and, posthumously, Glen Boles. "This night is all about honoring our own," said CGCAI President Diane Romano.
Doreen Rallo and Bobbie Green introduced Luis—the "Latin bombshell known as Luisa Verde"—and Gary—the "hunk from Tyrone, Pennsylvania"—recalling Luisa's "It Shoulda Been Me" and the couple's Barbie and Ken—"Come on, Barbie/Let's go party"—in Sal Piro shows; the costumes they made and wore in Arts Project of Cherry Grove (APCG) shows and Casinos; and their stage settings for Doctor's Fund Benefit shows. Their Pirate and Treasure Chest, Frankenstein and his Bride, and Pinocchio and the Blue Fairy were among their creations that were mentioned.
Luis said, "When we first got here," 20 years ago, "Panzi threw us into the Arts Project, Philomena was, to me, a goddess, and Sal said we could get on stage and have fun." Gary said of Luis, "He brought out a place in me [as a performer that] I could never do on my own."
Introducing Sal, Valerie Perez declared, "Sal is one of the best people I've ever met in my life." Of his life before he came to the Grove, Valerie said, "Sal tried the seminary, but it didn't work out. The Church's loss is our gain." Of his 10 APCG shows, Valerie noted, "All were sell-outs." Concerning the Pines Animal Welfare Society (PAWS), which she heads here, Valerie said, "I could not have had a PAWS benefit for the last 20 years without him." She concluded, "Thanks, Sal, for everything," and brought a concise message from Daniel Nardicio, who produces events at the Ice Palace, which Sal used to manage: "Sal, come back!"
Sal greeted the award with, "Hello, Gorgeous!" and said that it could sell well on EBay, but that he would never part with it. He thanked Dominic DeSantis for bringing him into APCG shows; Bella for drafting him to play the Priest in the first "Bella's Wedding" show at the Ice Palace; and the late Teri Warren for "accepting me into the group of friends." "I'm inspired by [Panzi and Philomena's] comedy and Phil's beauty." Phil was in all 10 of his shows. Sal recalled his "lucky charm," late Postmaster Jeanne Skinner.
Sal was almost ejected from the seminary twice, first for running Bingo games and then for a show he put on, "Heaven's a-Popping"—"I was told it was very gay." He performed with the Glines gay theater company in the Village; got involved with "The Rocky Horror Show," serving as President of its International Fan Club; and plays in Scrabble tournaments. "My sister said to me [that] I have always marched to my own drummer. Where else would I wind up but here?" he concluded.
Thom "Panzi" Hansen and Matt Baney roasted Phil. Panzi pointed out that "All the honorees were on the Gay Bowling League" and said, slyly, "I remember when Sal first handed me a script and expected me to read his words!" Matt informed us that Phil has been in 45 shows. Panzi noted, "We're all from New Jersey" and cited the Turnpike exits that they grew up near. On Phil as pastry chef, Matt said, "His desserts are so rich and creamy" and keep one up all night because of all the sugar. Phil achieved the triple crown of being Miss Fire Island, Grove Homecoming Queen, and Mrs.—now Ms.—Fire Island and her nickname as Empress of New York was Sancta Philomena, because where else could she go but sainthood?
Accepting the award, Phil paraphrased Eve Harrington's speech to the Sarah Siddons Society, from "All About Eve," and thanked Panzi and Matt, whom he said he would talk to again in about a year, and also his partner Michael Abdis, who all make him feel like a rich man.
Roland Michely accepted the award for his late partner Glen, born 100 years ago. Roland spoke of Glen's career as a Hollywood actor, making 30 films; of his having traveled to Cherry Grove with his friend Earl Blackwell and saying, "We slept in the dunes;" and having been in the Coast Guard and been outed in the 1940s—Glen stayed, but the man who outed him was transferred. As a psychoanalyst, Glen worked to have the designation of homosexuality as a disorder removed.
Glen was instrumental in stopping seaplanes from landing in Cherry Grove—he thought the low-flying planes were dangerous to the houses in the community. Roland told us that Glen had said, wittily, of the Grove, "You don't have to wear makeup, unless you want to; you don't have to wear pretty clothes, unless you want to; and you all love one another, unless you don't want to."
Diane thanked CGCAI Vice-President Joyce Yaeger for her part in creating the Community Honors event and Joyce hailed Diane for her leadership and determination to get things done.