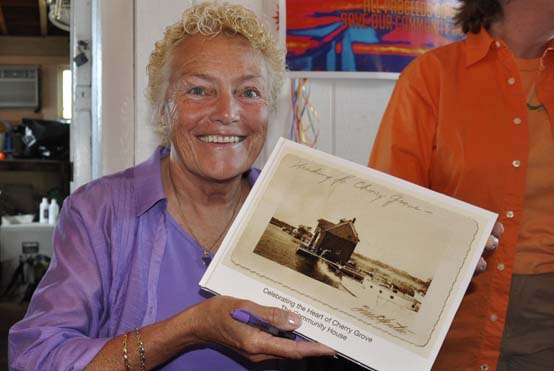 photo by Bruce-Michael Gelbert

Lorraine H. Michels & "Celebrating the Heart of Cherry Grove: The Community House"

.......................................................................................................................................................................................
In 2013, the Community House, Cherry Grove, Fire Island's 65-year-old theatre, received New York State and Federal recognition as an historic site, its distinctive place as "the oldest continuously operating gay theatre in the U.S." designated on both the New York State Historic Register and National Register of Historic Places and, in August, U.S. Senator from New York Kirsten Gillibrand unveiled plaques there, attesting to its new official status.
In June, photographer Lorraine H. Michels celebrated our beloved house as well by releasing a book, for which she served as "coordinator and editor," "Celebrating the Heart of Cherry Grove: 'The Community House'" and 65 years of theatrical and other events there. With a cover price of $100, the book is being sold for the benefit of the Save Our Community House campaign and is available by emailing Lorraine directly at photocgfd@aol.com and putting "I'm interested in purchasing the book about Cherry Grove Community House" on the subject line. I've consulted the book frequently over the past four months, enjoying having its archival photos and Lorraine's photos, and being a part of it. Reading it, taking it in, from cover to cover, I realize more fully just what a monumental accomplishment the book is.
Disclaimer: my name, face, and work appear a fair number of times in "Celebrating the Heart/the Community House." There are pictures of me in three of the 16 Arts Project of Cherry Grove shows that I've been in, the reproduction of a program cover for which I took the photo, and photographs that I contributed of an event Lorraine did not attend. I also appear in some of the Arts Project Casino photos.
So, there are several reasons and ways to look at and cherish this tome. If you've been part of the community theater, you can look for pictures of the endeavors that you've participated in. You can look for the names and faces of your friends and neighbors, with whom you've performed, on the pages concerning the shows that they were in, shows in which you shared the stage with them, shows you saw them in, or shows that took place before you became interested in attending or, possibly, before you were born. You can enjoy the photos of the people whose names you've heard, but never actually met or saw on stage. You can also enjoy seeing pictures of people that you know, but whom you never saw on stage in drag or other fancy dress costume. You can also enjoy finding the names and faces of bona fide celebrities, like Peggy Hewett, Peggy Fears, and Lea DeLaria, and, of course, of local celebrities. You'll also come across people that you knew who are no longer with us and that is bittersweet.
And there's the historic information, how programs at first included the full names of performers; how, in the McCarthy era, performers in a town increasingly known as gay and lesbian felt obliged to list only first names, initials, or pseudonyms; and how using full names became more the norm post-Stonewall. There's the rebellion, by some Art (no s) Project founding parents, against the Community House and, indeed, the community having a reputation for being gay at all, and how that was resolved.
Pillars of the theater during my time in Cherry Grove, like, Randy Riggs, Billie Ann Miller, Sal Piro, Vernon Larsen, Joe Pepe, Peter Turchianom and Craig Tessler; the late Maggie McCorkle, Harold Seeley, Jeanne Skinner, and Teri Warren; and the still active Bob "Rose" Levine, Susan and Ruth Freedner, Lynne Tunderman, Bill Perez, Thom "Panzi" Hansen, Phil "Philomena" Stoehr, Richard "Bella" Iorio, Dominic De Santis, Barbara Hirsch and Linda Dickerman, Sherri Rase, SallyAnn Piacentino, and Lorraine's spouse Joan Van Ness, can, happily, all be found here. There's invaluable information from Carl Luss, who drew up the proposals to put the Community House on the registers of historic sites.
There are also a few quirks, something I've discussed with Lorraine. Sal Piro directed 10 Arts Project shows and I appeared in six of them—there's no page devoted to photos of any of those six and I regret their absence. Doctor's Fund benefits are mixed in with the other show, with no mention that these were, at one time, not produced even 'in association with the Arts Project.' In my mind, they're different—for one thing, there are no open cast calls for them. There are also hints about past shows that whet one's appetite to know more about them—the answers to questions that come to mind can sometimes be found during the Cherry Grove Archives shows. No matter: the book is what it is, and that's fine, too.
I'm sure that the person who is not an 'insider'—the one who won't look at the pictures and say, oh, that couple's not together anymore, or he or she doesn't come to Cherry Grove anymore or has passed from this earth—will also appreciate the many pages of photos and the information about just what has happened in 'the heart of Cherry Grove' to give it a place in LGBT history and land it in the news this year. Lorraine deserves thanks and praise for pulling this memoir of our treasured Community House, 65 years young, together.