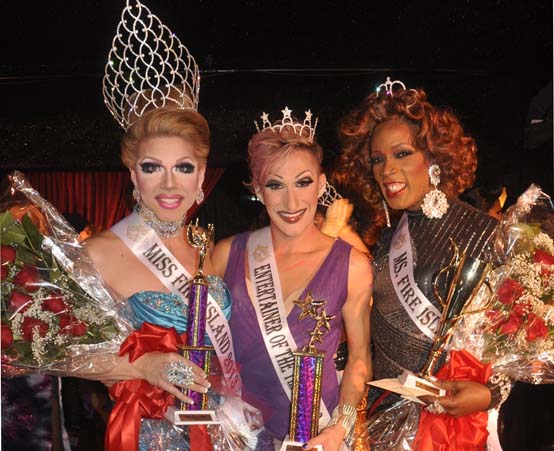 photo by Bruce-Michael Gelbert

(left to right) Miss Fire Island 2013 Roxy Brooks, Entertainer of the Year Bootsie LeFaris, & Ms. Fire Island 2013 Zola
.......................................................................................................................................................................................
The 49th annual Miss Fire Island Contest took place at the Grove Hotel and Ice Palace on September 7 and Roxy Brooks; Bootsie LeFaris—for a song and athletic dance number with a male dance partner, both in primitive-looking body paint; and Zola emerged with the top titles of, respectively, Miss Fire Island, Entertainer of the Year, and Ms. Fire Island. Beside sash, crown, trophy, and bouquet, Brooks won $1,000, LeFaris, $600, and Zola, $300. Brooks and Dallas Dubois, the new Miss Cherry Grove, and Brenda Dahling, the new Miss Ice Palace, were crowned by Yuhua Hamasaki, ending her reign as Miss Fire Island 2012. Zola and Ms. Cherry Grove Lady Ivanna were crowned by Ms. Fire Island 2012 Monica Storm, and LeFaris was crowned by Entertainer of the Year 2012 Hollie Dae.
Miss Fire Island Executive Producer Sal Piro presented Grove Hotel appreciation awards to cocktail server Sue Panzer, Talley Judge Dennis McConkey, DJ Chuck McTague, and singer and contest co-hostess Porsche, and a Lifetime Achievement Award to Miss Fire Island contestant China. Sponsor awards went to Bob the Drag Queen ("Turn Me On"), given by Perrier; Schwa De Vivre ("Must be jelly, 'cause jam don't shake like that"), given by Odyssey Magazine; Chocolatina (singing "Dress of Many Vodkas"), given by Absolut; Stasha Storm, given by Malibu Rum; and Prada G. Major ("This Girl Is on Fire," "Set Fire to the Rain"), given by Coors Light. With the exception of Stasha Storm, who competed for Miss Fire Island, those winning sponsor awards had vied for Entertainer of the Year. The Judges—entertainer Gusty Winds, Miss Fire Island 2009 Renée Flaming, women's wear designer Michael Plosky, Cherry Grove's Joyce Rodgers, Bunkhouse owner Eileen Shapiro, Island Mermaid's Scott Hirsch, and Pines Animal Welfare Society, Cherry Grove Chapter head Valerie Perez—gave their award to Miss Fire Island contender Mirkala Crystal, and the Most Popular Award, the audience favorite, went to Busted, who competed for Entertainer.
Other Miss Fire Island contestants were Tina Burner, Frostie Flakes, Lady Alessandra, and Kara Sucia. Additional Ms. Fire Island contenders were Whore D'oeuvre, Donna Piranha, and Gassy Winds. Also vying for Entertainer were Mahoganny, Julie, Billy Little, K Money, Kiara Monteiro, Elle Taylor, Dixie Normous, singers Lady Priscilla Modell and Lee Lee Heavenly, Tiffany LeClerk, Delfina, and Shawn Casey.
Mistresses of Ceremonies, beside Porsche, were Ariel Sinclair and Logan Hardcore. DJ RDK (Richard Kennedy) shared responsibility for music, sound, and lights with DJ Chuck. Brandon Cutrell sang the Star Spangled Banner and Johnny Savoy's Ballad of Miss Fire Island. Ariel's number was a parody, "Call Me Crazy;" Hollie Dae assured us "You haven't seen the last of me," complete with somersault and split; Logan offered a selection about "Downtown bitches;" Porsche sang "I want to put on my pointed shoes and point 'em at you" and "Valerie;" and Charity, the second Miss Fire Island, gave us "When You're Good to Mama," from "Chicago."
Contestant coordinators were Jamie Jordan, Maria Elena Passaretti, and Tony Bondi.