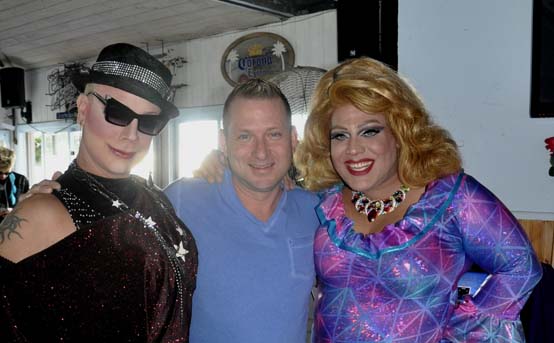 photo by Bruce-Michael Gelbert

Topaz, DJ Chuck McTague & Porsche

.......................................................................................................................................................................................
Picture it: September 29 at the Ice Palace: It was beloved singer Porsche's final show of the season and the closing show of the Ice Palace season, with faithful DJ Chuck McTague and guest Topaz Crawford, and a wacky show it was, in which some very unusual things happened.
"I wanna put on my boogie shoes and boogie with you," Porsche began and then, unusually, channeling Barry White, sang "Can't get enough of your love, baby." She became a witchy Bette Midler, declaring, "I Put a Spell on You," in honor of Halloween, and Carol Channing, singing the title song from "Hello, Dolly," recalling the 92-year-old legendary diva's appearance here in August.
Porsche and Topaz improvised a duet of "Great Balls of Fire" as, by turns, Channing, Cher, and Eartha Kitt, and "If I Could Turn Back Time," as Cher. "Would I lie to you?" Topaz asked, in her solo number. Porsche sang "Save the Best for Last," with Topaz lip-synching. Turning to television, Porsche and Topaz sang theme songs from "Green Acres," "Movin' on Up," and "Facts of Life;" worked on an improvisation to the "Wonder Woman" theme, as Lynda Carter had sung here this season; paid homage to "Dallas," the TV show, and to Texas, their native state; and concluded the section by singing "Thank You for Being a Friend."
Porsche's sensitive "Send in the Clowns," from "A Little Night Music," followed, and then Porsche and Topaz sang "Sisters." "I think about you," Topaz offered next and, wrapping her hair, Porsche morphed into Erykah Badu to sing "Tyrone." Topaz channeled Dallas Dubois for "The Big Time" and Logan Hardcore for "Single Ladies (Put a Ring on It)" and Porsche channeled Ariel Sinclair for "My Vagina Is Eight Miles Wide" and Lavinia Draper to sing "Mein Herr," from "Cabaret," working the chair, swing, pool table, and deck, and exclaiming afterward that doing "Lavinia is exhausting!" Topaz performed Grace Slick's "Dreams" and, under black light, Porsche sang Slick's "White Rabbit," with Topaz adding interpretive moves. "Don't Stop Believing," the two sang, and Porsche became Dolly Parton to sing "Nine to Five" and Judy Garland for "The Man That Got Away." After a costume change, Topaz gave us "Midnight Train to Georgia."
"Make Your Own Kind of Music" and "Georgie Girl" were Porsche's next songs. Jefferson Airplane's "Don't You Want Somebody to Love" was Porsche and Topaz's duet. Porsche and Chuck collaborated on their traditional duet, "Suddenly Seymour," from "Little Shop of Horrors." Adele's "Let the Sky Fall," "Wig in a Box" from "Hedwig and the Angry Inch," Janis Joplin's "Piece of My Heart," and "Summertime," from "Porgy and Bess," Janis-style, concluded this Porsche marathon.
Hear Porsche at Pieces, on Christopher Street, soon.