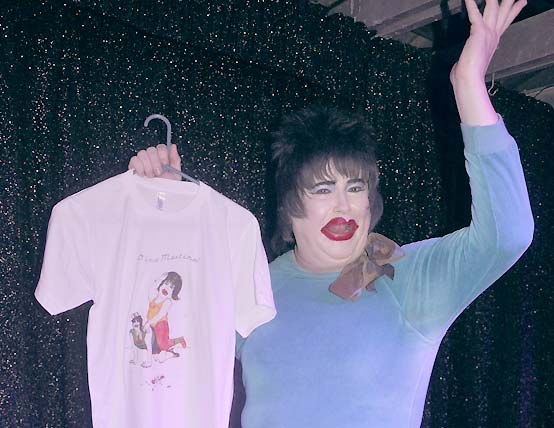 photo by Bruce-Michael Gelbert

Dina Martina

.......................................................................................................................................................................................
For the second consecutive season, Dina Martina, the hot mess toast of Provincetown, returned to the Ice Palace to open Daniel Nardicio's Icon series. The performance took place on May 24 and DJ Chuck McTague was responsible for music, sound, and lights.
Sporting a red look-of-leather jacket, white boots, a white Claiborne blouse with the sleeves hacked off, a black leotard, and red, red lips by Bette Davis as Baby Jane, Dina sang "Que voulez-vous?" and declared, "I am so pleasured to be back here!" She shared a nutrition tip—"I try to eat a diet rich in sodium"—and announced proudly that "bacon grease" is her favorite food. "I got a song in my heart and a shard of glass in my foot," she announced blithely, to introduce her ode to the Ice Palace, "I need to touch the green, green grass of home." In film clips, La Martina emerged from a flying saucer, spouting wholesome advice, in the face of army tanks and guns, and conflated the likes of "The Ten Commandments" with "Funny Girl" and "Dreamgirls" and "Blood Feast" with "Oklahoma!"
After a costume change to chic black-and-white, our diva, swinging it, sang, "Does anybody really know what time it is?," punctuated by commercials for Alberta Peaches, Botox, underwear, and dogs that sniff out melanoma. "I'm from Las Vegas—I wasn't born there, but I was breaded there," she confided, and confessed to being a "compulsive jambler." She "modeled for the Braille edition of Vogue" and wound up in Sweden, where she had a tragic affair with an ice skater named Hans, in remembrance of whom she sang, with a throb in her voice, of "Looking through the ice of love." She showed clips from "Gone with the Wind," in which she was Rhett Butler opposite Vivian Leigh's Scarlett O'Hara, and "The Wizard of Oz," in which she played Toto to Judy Garland's Dorothy Gale.
Wearing a blue jumpsuit and singing, "(Her name is) Rio (and she dances on the sand)," Dina built to her song's surprising climax—eating from a bowl of spaghetti, liberally topped with grated cheese—and for the finale, told a shaggy dog story, about Jesus' return in a bar, to lead into "The Greatest Love of All," with startling variations.
Opening for Dina Martina, sexy Jett Adore, from Chicago, danced and stripped out of a fur coat, white vinyl vest and tie, and striped pants down to a glittery white g-string and assorted other straps and jewels.
Coming up on Daniel's Icon series at the Ice Palace will be Linda Eder (July 12), Linda Lavin with Billy Stritch ("Possibilities" on July 26), Christine Ebersole with jazz violinist Aaron Weinstein and his trio ("Strings Attached" on August 16), and Kathy Najimy, Meow Meow, Jackie Hoffman, and Scott Thompson, from "Kids in the Hall," on dates to be announced. Visit www.dworld.us, the Grove Hotel office, or Gostoso in Fire Island Pines to buy tickets and get further information.