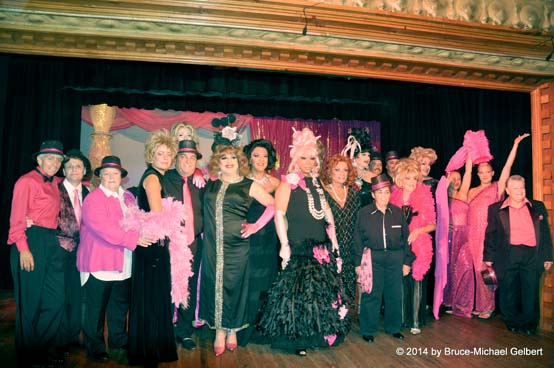 photo by Bruce-Michael Gelbert

cast of "Déjà Vu"

.......................................................................................................................................................................................
On August 30, at the Community House, Demi-Tasse brought us her fabulous dream view of Vegas—the show girls, the show stoppers, and the legendary performers—in "Déjà Vu," a one-night-only Arts Project of Cherry Grove (APCG) theatrical presentation.
Attended by her faithful maid (Bonbon LaRue) and business manager (Martha Pitkin), Demi, in her dressing room, just having performed "This Is My Life," looked into her mirror and exclaimed, Barbra Streisand-style, "Hello, Gorgeous!" She wondered aloud just how she made it to Las Vegas, appearing amidst a host of other notables. The ghosts of Marlene Dietrich, Frank Sinatra, and Elvis Presley came to call and Demi's dream began. "Gotta Move" was Demi's song that followed.
With set designer George McGarvey playing the chauffeur of his limousine, Liberace (Doreen Rallo) emerged, George handed him the candelabra and kissed him and, at the piano, the flamboyant star launched into "I'll Be Seeing You." Elton John (Mark Costanzo), doing "Rocket Man," soon displaced Liberace on the piano bench, but then Wayne Newton (SallyAnn Piacentino), giving thanks with "Danke Schoen," claimed center stage. The next flashy celebrities to show up were Dolly Parton (a buxom Coco), offering "Nine to Five," and Shirley Bassey (Margo), with a dramatic "Goldfinger."
To the tune of "What's New, Pussycat?," Siegfried (a whip-wielding Linda Dickerman) and Roy (Barbara Hirsch) took on their white tigers (Ruth and Susan Freedner). Carnage continued offstage, until a bloodied Roy emerged. In a—deliberately and decidedly—less smashing number, Diva Demi and her backups (Lee Sharmat, Doreen, Eddie Galante, Ken Woodhouse, and Mark) gave us "The 20th Century Fox Mambo." A wannabe in curlers (Bella) turned into a glamorous beauty before our eyes, as she assured "I Am Changing," from "Dreamgirls." Poor Peggy Lee (APCG President Thom "Panzi" Hansen) overstayed her welcome, having to be carted on stage for the likes of "Fever" and "Is That All There Is?" and needing an oxygen mask by the time she reached "Hey, There," from "Pajama Game."
If one Barbra is good, two must be better, so Demi and Angela Mercy played dueling Barbras, pairing "One Less Bell to Answer" and "A House Is not a Home." Steve Lawrence (SallyAnn) and Eydie Gormé (Bella) were on hand to wonder if "This Could Be the Start of Something Big." Donna Piranha, sporting a glittering web cape, as Chita Rivera, warned us about the lethal "Kiss of the Spider Woman." Celine Dion (Angela) emoted as she found that "It's All Coming Back to Me Now." A quartet of seductive lovelies (Panzi, Bonbon, Bella, and Demi) strutted their stuff, challenging, "If You Don't See What You Want up Here (lay down, brother, you're dead)." Ken introduced a '60s hits segment, which pitted the Manhattan Transfer (Linda, Barbara, Ruth, Susan, and Lee), doing "Trickle, Trickle," against the Ronettes (Coco, Angela, and Donna), doing "Be My Baby." Then an equestrian Cher (Demi), wearing a feathered headdress, gave us "Half Breed." Suddenly the horse proffered its critique and Panzi, with a papoose strapped to her back, reveled in the scat scene.
Freeta Chews, returning to the Cherry Grove stage as Bette Midler, after a long absence, stopped the show with an intense "When a Man Loves a Woman." Ken and Bella kicked off the grand finale, "Folies Bergères," with the full company, now including Gina Garan and Jackie Carlson, all looking most elegant.
Matt Baney and Alison Brackman were responsible for sound and lighting, assisted by Michael Romanelli. Luke Mahoney and Michael T. Mehmet worked with George on the evocative sets and with Arthur Cohen and David Medina on the stage crew. Luke was also the costumer. Martha served as stage manager.