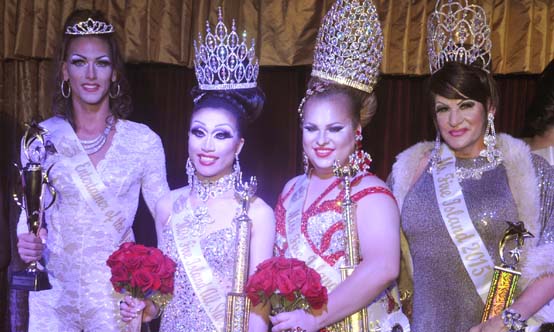 photo by Bruce-Michael Gelbert

(left to right) Entertainer of the Year Kendra H. Kinx, Miss FI All Star Yuhua Hamasaki, Miss FI Vita Summers & Ms. FI Donna Piranha

.......................................................................................................................................................................................
The 50th annual Miss Fire Island Pageant took place at the Ice Palace on September 12, with Ariel Sinclair, Logan Hardcore, and Porsche as Mistresses of Ceremonies, all elegant in gold; DJs Chuck McTague and Richard Kennedy providing music, sound, and lights; and Brandon Cutrell, host of Broadway at the Beach, singing the "Star Spangled Banner" and Johnny Savoy's "Miss Fire Island" song. With a panel of five judges deciding, singer Vita Summers, the reigning Miss Cherry Lane and Cherry's Entertainer; Island Breeze and Belvedere's Kendra H. Kinx; Grove Homecoming Queen 2004 Donna Piranha; and Miss FI 2012 Yuhua Hamasaki took the top titles of, respectively, Miss FI, Entertainer of the Year, Ms. FI, and in a new category, Miss FI All Star, open to former Miss and Ms. FI winners. Kendra's winning number, which brought down the house, was "Let's Hear It for the Boy," with Jason and Elijah as back-up dancers. Porsche and Donna's gowns were designed by Michael Vincent.
Judges were original Cherry's co-owner Meryl Facterman; North Shore and Long Island Jewish Hospital's Edward Fraser; Miss FI 1998 Vanessa Diamond; singer Kenny Holcomb; and Cherry Grove Guys' Mike Fisher, with Dennis McConkey serving as tally judge. Miss FI 1968 Rita George, the third Miss FI, introduced the judges.
Winners of other titles and prizes were Honey Davenport, the reigning Miss Cherry's, now also Miss Cherry Grove, and Holly Dae, named Miss Ice Palace, the runners-up to Miss FI; Lady Ivana, the new Ms. Cherry Grove, runner-up to Ms. FI; Leontyne Rice, the Most Popular, or audience favorite, who, dressed as Turandot, sang Calaf's "Nessun dorma," from "Turandot," in a strong high operatic tenor; Zola, who won the Judges' Award; and winning sponsor awards, Lee Lee Heavenly, receiving the Absolut Award for energetically singing and dancing "Proud Mary, and Monet X Change, given the Coors Light Award.
Others who ran for Miss FI, beside Vita, Zola, Monet, Holly, and Honey, were Alexia-Nycole Davenport, Champagne Bubbles, Victoria Falls, Sasha Storm, Kara Sucia, veteran Grovite China, and Stefani Victoria Spears.
Additional contenders for the Entertainer Award, beside those already mentioned, were Saline Dijon, singing "River Deep, Mountain High;" Judy Darling, in green face as the Wicked Witch of the West, and drawing on "Wicked," "The Wizard of Oz," and so on, for her number; Billy Little as Wanda Sykes; Carey Frost, doing "Circle of Life," from "The Lion King," with a live cat assisting; plus-size Kashi Go'Lean, who, to strains of "Let's Get Physical," demonstrated her exercise routine, got a food delivery, and distributed snacks; Terra Grenade, who gave us a Madonna/Marilyn Monroe look for her song, Lady Gaga's "Paparazzi," with bits of "Mommie Dearest" and "Designing Women" mixed in; Asiana Airline as a harem girl in gold; Dirty Dixie Normous, whose number was Wendy Ho's "Fuck Me;" Delfina, as Bette Midler, doing "When a Man Loves a Woman;" Schwa De Vivre, who sang "Fabulous, Baby!" from "Sister Act;" and Pearl, as Janis Joplin, offering "Piece of My Heart."
Others running for Ms. FI were YaNeeda Dunes and Beach DeBree, Homecoming Queens 2011 and 2010 respectively. Others vying for Miss FI All Star were Miss FI 2007 Stefanie Stone; 2003 Nikki Starr; and 2009 Renée Flaming.
Stepping down and crowning their successors were 2014 Miss FI Brenda Dharling, Entertainer of the Year Jada Balenciaga, and Ms. FI Whore D'Oeuvre, also Homecoming Queen 2014.
The Miss FI title carries a $1,200 prize, Entertainer wins $800, Miss FI All Star $750, Ms. FI $300, Miss Cherry Grove $500, Ms. Cherry Grove, Miss Ice Palace, and the Judges Award $150 each, Most Popular $200, and the Sponsors' favorites $100 apiece.