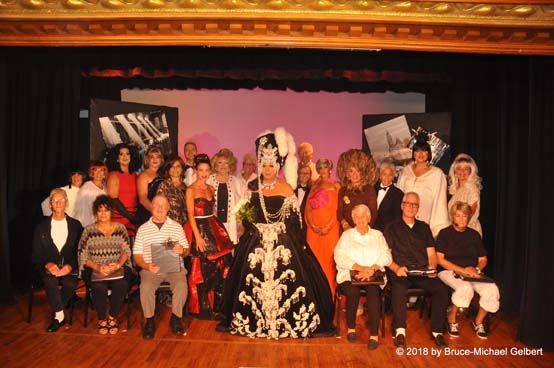 photo by Bruce-Michael Gelbert

"Those Were the Days" cast

.......................................................................................................................................................................................
"Those Were the Days: A Love Letter to New York City: an Evening of Stories, Styles, and Songs," Matt Baney and Demi-Tasse's Labor Day Weekend show for the Arts Project of Cherry Grove (APCG), on September 1, brought remembrances of the city from a wide variety of quotable luminaries, fashions through the decades—some of our neighbors have never looked so elegant!, and the soundtrack that went with them all, to the Community House.
Opening each of the two acts, singer Chris Caswell saluted the city with his dulcet "Autumn in New York" first and nostalgic "Downtown," with audience sing-along, later.
Strutting the runway and sporting vintage fashions, which took us back to the 1920s and up to the present, were Sharon Cox, Miss Coastal Roots, Victoria Falls, Ali Ferone, Caroline Loevner, Sue Panzer, Pat Seipp, Lee Sharmat, Sofina Terzo, Homecoming Queen Rose Levine and, finally, with a most imperial look, Demi-Tasse herself. Angela Smith told us who was wearing what and Lorraine Michels and Doreen Rallo escorted the lovely models, who had to be seen to be believed.
APCG President Thom "Panzi" Hansen and Joan Van Ness shared pithy observations and Matt, John Behan, Tommy "Tush" De Mastri, Paulette Manos, Gay Nathan, and Joyce Yaeger evoked days gone by with indelible New York images, those fondly remembered or heard or read about.
"New York is the only city where you can get run over on the street by a pedestrian," Panzi offered, and recalled a time when drag performers at the Gold Bug, the erstwhile West Village gay bar, were obliged to wear at least three articles of men's clothing under their drag. Matt remembered the 1976 Daily News headline: "Ford to New York City: 'Drop Dead!'" The trip down memory lane took us to the Third Avenue El, the old Penn Station, the automat, the Broadway theatres, Radio City Music Hall, the steamy, seamy bars in the Meatpacking District, the Fillmore East, and Studio 54.
Fans of the Brooklyn Dodgers and New York Yankees proclaimed their respective loyalties once again. We visited Irish bars, Jewish delicatessens, and restaurants in Chinatown. Remembered were two-way traffic on all avenues, buying vinyl phonograph records at Sam Goody, the blackouts of the 1960s and 1970s, San Francisco's glittery drag troupe the Cockettes, Francis Cardinal Spellman, a young Bette Midler, and Leontyne Price serenading customers in Bigelow Pharmacy, in the Village, with "I Wish You a Merry Christmas."
Additional quotable quotes shared here were "Laundry is the only thing that should be separated by color" and "Surprise sex is the best thing to wake up to—unless you're in prison."
Matt was the Technical Director, with Alison Brackman, JoAnn Orfanos, Michael Romanelli, and Sharon Weinberg responsible for lights and sound, and Martha Pitkin, Ellen Biggers, Clara Bogetti, Dave Medina, Arthur Cohen, and Maria Elena Passaretti assuring that things hummed along behind the scenes. Urban Sprawl made up the runway models and Demi was responsible for the wigs and fashions.
"Those Were the Days" was truly a highlight of the holiday weekend.