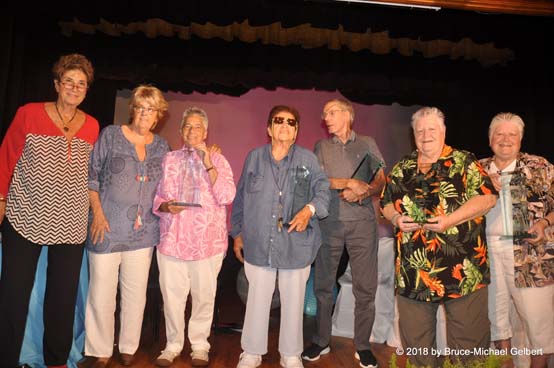 photo by Bruce-Michael Gelbert

CGCAI President & Vice-President Diane Romano & Joyce Yaeger with honorees Anita Auricchio, Valerie L. Perez, Jack Dowling, Susan Freedner & Ruth Freedner with their awards (Missing from photo: honoree Evelyn Danko)

.......................................................................................................................................................................................
On August 18, at the historic Community House, the Cherry Grove Community Association, Inc. (CGCAI) presented its Community Honors Awards to half-a-dozen worthy members of the community, in an event chaired by CGAI Vice-President Joyce Yaeger. Matthew George and Doris Dear started the evening by singing "Get Happy" and "Happy Days Are Here Again" in the pairing made famous by Judy Garland and Barbra Streisand. CGCAI President Diane Romano said, "Each of the honorees has given of their time and energy to Cherry Grove," and Joyce followed with additional welcoming remarks.
Sharon Weinberg introduced her partner of 25 years, honoree and tireless Arts Project of Cherry Grove (APCG) Board member Anita Auricchio, saying that the award was meant "to recognize Anita's service to Cherry Grove year round and day in day out." She recalled the beginning of their volunteering for APGC and urged appreciation of the volunteers.
Anita declared, "Sharon and I are a team. Whatever I get involved in, Sharon is behind me or next to me, not very far away." Sharing some of her background, Anita said, "I spent many, many years of my life fighting for lesbian and gay rights and equal rights for all … We went to all types of marches demanding our rights." At one march, as a leader of the lesbian caucus of the National Organization for Women (NOW), she had to register with the FBI, so, she said, "I am a true lesbian!" More than an LGBT community, she said, of Cherry Grove, "We are a community that co-exists with each other—we laugh, we cry, we play together … All of this together makes a strong and powerful community." She urged, "We must pass on our history to the future … we cannot take anything for granted."
Todd Erickson introduced honoree, writer, painter, and Grovite since 1950 Jack Dowling. Todd spoke of Jack's garden at Windy Hill, on the third dune, as "a kind of Grove paradise," claimed that Jack "reveal[s] himself in his artistry," and commented on Jack's "enduring love for Cherry Grove."
Jack used the colorful phrase "light in the loafers" to describe what he was like in the 1960s and recalled early days with friends Audrey Hartmann—who was present—and the late Maggie McCorkle. He thanked Diane, Joyce, and CGCAI for restoration work on the Community House and noted that CGCAI was founded by his late partner Wallace (Wally) Forstell (1936-2005).
Introducing honoree Ruth Freedner, veteran of four decades of APCG shows, Francine Sardone saluted Ruth for her work in the theater, with the Pines Animal Welfare Society (PAWS) benefits, on the APCG Casino, and on behalf of the July 4 Cherry Grove Invasion of the Pines.
Coming to the Grove since 1968, Ruth recalled her first impressions: "It's Xanadu! This place is incredible!" In the 1970s, "We went to the beach all day long. We went to the disco all night long." She performed in her first APCG show in 1978 and said, with wonder, "They're gonna let me on stage. They're gonna let me sing and dance—and I can't!" and went on with, "I'm grateful to all the people who let me do that—it gives me such great joy!" She concluded, "This is my family of friends … my village."
APCG President Thom "Panzi" Hansen, introducing Ruth's twin sister, honoree Susan Freedner, also an APCG thespian for 40 years, began, "The twins are not receiving the honors, but [Susan's spouse] Cathy Eckdahl is, for living with them!" and recalled being there on the night that Susan met Cathy in 1985. He concluded, "Both Susan and Ruth really are the essence of this community."
Susan opened with, "Ruth goes around telling everyone that I'm the funnier one"—quite a responsibility to live up to—and pointed out, "I got us out here [to Cherry Grove] first!" She recalled "Grace Jones dancing at the Ice Palace," in the 1970s—"She was almost naked"—and went on, "I love, love, love Cherry Grove!" She spoke of her life-changing car accident in the 1990s and pointed out that Panzi, who had never worn a seatbelt before, had done so ever since. She and Cathy did not move in together immediately, as some lesbians do, because, Cathy said, "You've been a bachelor with your twin too long—you need to be housebroken!" She concluded, "The people I've met here truly have become my friends."
Returning to Cherry Grove to honor his friends Valerie L. Perez and, in absentia, Evelyn Danko, leaders of PAWS as well as realtors, Sal Piro said, "I have never met a couple who are so different, but so similar." He spoke of his 20 years of vacations in Acapulco with them and, as its erstwhile entertainment coordinator, of welcoming the PAWS benefit to the Ice Palace: "I'm not an animal person—I did it for Valerie." He talked about food shopping with Valerie and Evelyn in Mexico—"For three weeks, there was not a hungry cat in Acapulco!"—and described them as "honest and loving."
Valerie started coming to the Grove in 1956 and Evelyn did so in the 1960s. Valerie said, "Cherry Grove saved my life," as a respite from corporate life in the city, where men that she supervised got salary increases, while she didn't. Remembering an era when same-sex dancing was illegal, she said that Grove entrepreneur "Jimmy Merry would get me up at 2 in the morning to dance with a hundred guys, because you had to have one woman on the dance floor."
CGCAI recognized 52 Grovites with its Community Honors between 2006 and 2017. The six 2018 honorees make worthy additions indeed to the organization's pantheon.